TTF Financial Reports
If you have trouble understanding TTF's Auditor's Report, please refer to this guide: CPA Australia Guide to Understanding Annual Reporting
For queries about anything in the reports, please contact TTF. We can be contacted at info@tinhthuong.org.au.
Our work in 2016
The past year has been a busy and very encouraging year, with many fundraising events for TTF, and the help of many new volunteers in Vietnam in visiting our beneficiaries. With a team of very dedicated volunteers, we have reached out further and wider to the remote provinces in central Vietnam. TTF raised $90,305.00 in funds, and distributed $80,139.00.
As we have alerted members in the recent years, we are increasingly facing the issue of illness and death among our Beneficiaries. Funeral and medical expenses are getting higher over the past years, with many requests for emergency medical and funeral assistance, ongoing medical support and financial support for surviving family members.
This past year, we continued to have a number of community based fund-raisers help raise our profiles by organizing very successful fundraisers on our behalf. These fundraising events brought our community together around music and religious events, and helped increase our revenue. Also, we attended all 5 Vietnamese New Year festivals in Melbourne at: St. Albans, Footscray, Richmond, Springvale and the Vietnamese Community Tet at Melbourne Showgrounds, bringing the collections at these festivals to be about 20% of the annual revenue.
On the distribution side, with the help of very enthusiastic and dedicated volunteers we continued to reach out to rural regions of most provinces in Viet Nam, cutting back on visits in Saigon and surrounding areas. This will shape the distributions for the years ahead. TTF will continue to target areas with limited access, the rural new economic zones, and the central provinces of Vietnam.
Chau Nguyen (President)
812 Beneficiaries across
29 regions in Viet Nam

45 beneficiaries received gifts of food
31 scholarship students

5 beneficiaries fitted with prosthetic limbs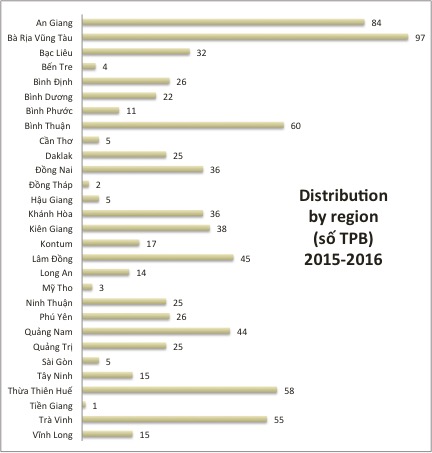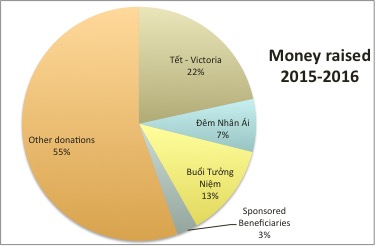 55% of donations ($49,977.75) were made directly to TTF account:-
Donors from VIC
$38,275.75
Donors from NSW
$8,852.00
Donors from QLD
$1,150.00
Donors from ACT
$900.00
Donors from WA
$700.00
Donors from SA
$100.00
Other funds raised:
Buổi Tưởng Niệm Bông Hồng Thời Chinh Chiến
$11,645.00
Đêm Nhân Ái 7
$6,600.00
Tết – Victoria
$19,482.25
Sponsored beneficiaries
$2,600.00
 TOTAL
 $90,305.00